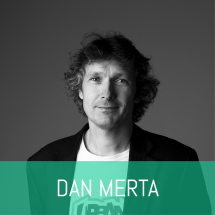 He studied Art History and Aesthetics at the Philosophical Faculty of Comenius University in Bratislava.
As Curator, he organised exhibitions in Prague Castle (E. Dietmann, Ch. Boltanski, K. Gebauer, A. Gormley, Laureates of Jindřich Chalupecký Award, V. Fiala etc.), in the Gallery of the Raiffeisen Building Society (J. Černický, K. Nepraš, J. Sopko, J. Róna, M. Mainer, T. Císařovský, J. David, R. Franta, J. Načeradský, V. Kokolia, J. Votruba, M. Rittstein), and co-curated the tour of Machat and Velíšek (1992).
Between 1999 and 2008, he was Secretary of the Jindřich Chalupecký Society (producing and curating the Award for young Czech artists under 35 years of age).
Between 1996 and 2000, he was employed as Head of the Department of Culture of the Prague 3 – Žižkov city district, where he co-founded the modern tradition of cultural-social bacchanalia: Žižkov Shrovetide and the Vinohrady Grape Harvest.
He was one of the initiators and founders of the Iniciativa Za novou Prahu (Initiative for New Prague) and Tady není developerovo (This is not developers' land) (2011).
Since 2001, he has managed the Jaroslav Fragner Gallery where he defended his position in a selection procedure in 2010.